Automated Quality Control with AI in Cement Industry
A Vision Solution by Irida Labs and Basler

Cement Industry Production: A Fast-Pacing, Harsh Environment
Cement industry provides an example of heavy industrial manufacturing process, involving multiple, complex stages before the end-product gets ready for shipping. A typical cement plant has a production capacity of several thousand tons per day, which is translated to a continues output of tens (or hundreds) of bags per minute on a 24/7 basis.  
In such a fast-pacing production line, every halt (i.e. to remove a defective bag) is translated to a significant delay in the production, packaging and loading flow, which in turn impacts the overall efficiency and productivity KPIs. On the other hand, every undetected defective cement bag risks contaminating an entire pallet, not to mention hurting client relations and adding an excessive cost for returns, insurance or reimbursement. On top of the above, due to cement's nature as a chemical product, legislation dictates very specific labelling requirements related to chemical, environmental and other specifications; failing to comply (due to printing or other failure) can lead to legal or financial consequences. 
QA/QC Challenges for the Cement Industry
In order meet top-quality standards, this leading European cement manufacturer utilized human inspector shifts to perform a 24/7 in-line visual inspection on the produced cement bags.  
The purpose of the project was to introduce a real-time quality inspection solution on cement bags that could identify any defects in random locations on the product's surface, such as cracks, spills, dents, cuts, damaged edges or even printing failures. The solution should provide always-on defect detection on continuously running conveyor belts, while providing real-time alerts when a defective product is detected. Integration with (pre-existing or new) 3rd party systems should also be available, in order to handle these alerts and trigger specific actions (i.e. alarm, PCB, automated disposal etc), not to mention the collection of production analytics and statistics. 
Last, but not least, the system should be robust against changing lighting conditions, excessive dust & dirt, vibrations, while being able to adjust to various packaging types (cement bags of different sizes and colours).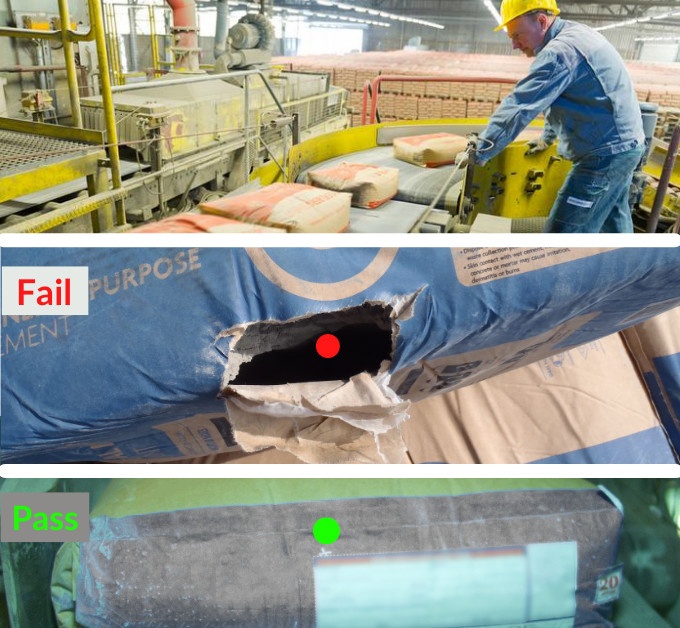 At its previous state, the packaged products Quality Control and Quality Assurance was performed via human visual inspection. This used to be a labour-intense process, involving 3 shifts of experienced operators to continuously oversee the production output, manually pause the conveyor systems in case of a detected defect, manually remove the defective bag and restore the operation. This process was highly prone to human errors, human fatigue even optical illusions, not to mention the sub-optimal efficiency and output due to the inevitable delays. Trustworthy data collection regarding the defects was also insufficient, making QA/QC process non-measurable and thus harder to improve. 
Artificial Intelligence is the game changer in this area, introducing next generation Industry 4.0 Vision AIoT solutions ,  allowing  numerous Smart Factory applications. Specifically on the QA/QC, Vision AI surpasses human vision in quality and quantity measurements because of its speed, accuracy, repeatability and scalability. Combined with the necessary optics, Vision AI can also detect defects that are impossible to consistently spot with the naked eye! 
The Computer Vision & AI Packaging Integrity & QA Solution
On the ground, each camera sensor for the Edge Vision AI Solution is paired with an on-premises processing device that operates as near as possible to the sensor. Each sensor is positioned at the optimal distance/height/angle indicated by Vision System Design, so the products are within its field of view and the characteristics-to-be-monitored are visible (aka 5 out of 6 sides of each product). The Vision AI solution is comprised of the following components: 
PerCV.ai Vision AI Software & Services Platform
The solution is powered by PerCV.ai, Irida Labs' end-to-end software & services platform for deploying Vision AI at scale. PerCV.ai handles the heavy lifting of orchestrating all the building blocks required to deploy a Vision AI solution; Vision Sensors & Edge Devices, Digital Vision Twin, Edge Hardware, Vision AI Software, Data Engine, APIs and AI Analytics are all integrated into the platform, streamlining development to support of both POC as well as full-scale production.
Components of the Vision AI Solution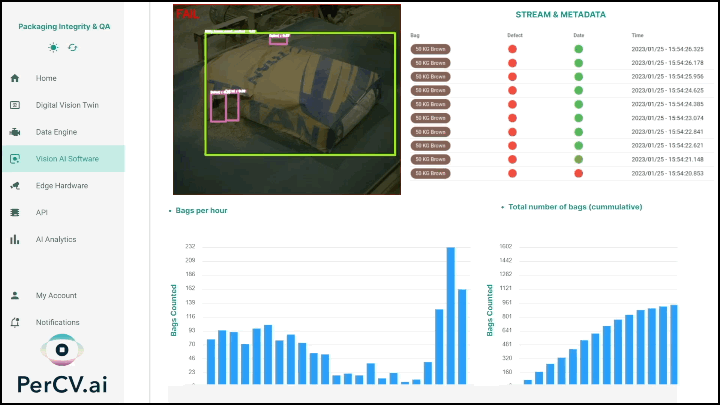 Get in Touch with our Team!
Explore further how our Vision AI Solution for Packaging Integrity & QA, powered by PerCV.ai, can help automate the integrity inspection and quality assurance procedures at your company.
We would love you to give us a very brief description of your implementation scenario, so that we assemble the most qualified team of Vision AI experts for our discussions!
Technical Specifications Of Hardware And Software

Real-time & HW-times stream

> 99.9% System Level Performance

PerCV.ai Data Analytics service

PerCV.ai control dashboard

PerCV.ai API for 3rd party integration

Real-time video/image recording & alerts
Benefit of Using Vision AI in the Defect Detection System
It's been over one year since the Vision AI Packaging Integrity & QA solution has been operational at the production line of TITAN. During this time, the company reports some remarkable results:  
The 24/7 automated unsupervised alerting on defects that require immediate attention/action constitute an immediate added value to the company, contributing to 95% reduction of defective bags being palletized as well as reduced Cost of Poor Quality (COPQ). Operations managers have a full overview of entire production process, in a single or even multiple sites, and they can react in real-time if/when needed. 
As an immediate consequence, the solution contributes to Zero Returns, since no defective products get palletized and get shipped to clients.  
80% Reduction in Labour Cost, since the solution eliminates the need for a manual human inspection of cement bags.
Compliance with local / EU / International Regulations (label/date misprint), reduced regulatory fines risk 
Efficiency in Production Processes
The system provides a real-time output when a defect is detected, which can in-turn trigger rejection systems, alarms or other automations. Detailed production analytics are being collected at the same time, providing an overview of the production output. All critical KPIs of the cement manufacturing process, including cement bag counting, defects detection (spills, dents, cut or damaged edges), printing failures (missing stamps, production date), are gathered in a single dashboard, allowing the real-time overview of one or multiple production lines from anywhere in the plant. 
Automatic, concurrent image capturing based on camera triggering mechanism

 

Capture data / images during system operation and store to the local Industrial PC

 

Visually check the Defect (or Production Date) that the AI system detected in real-time

 

Data analytics and graph-based statistics (plots)

 
The solution significantly reduced the number of defective sacks being palletized, with accompanying reductions in labour costs. As a consequence, customer complaints about defective sacks have significantly decreased
By using high-quality Basler cameras and our state-of-the-art AI vision software powered by our "PerCV.ai" platform, we enable a system to understand the visual information of a camera like a human eye, and turn it into useful data and insights for further processing and utilization. In this way we provide a high-fidelity and highly accurate system for packaging integrity and quality assurance inspection.
Explore how our Vision AI solution can help automate the integrity inspection and quality assurance procedures at your company.