March 16, 2022
Working closely with the Renesas team, we have integrated our PerCV.ai platform with RZ/V2L family to jointly release our Vision AI Sensor for Smart Cities & Spaces. A plug-n-play Edge AI hardware & software solution that drives the new era in urban area management.
Features
VISION AI at the EDGE: Turns camera into a vision sensor that does all the AI processing at the endpoint using RZ/V2L – No Cloud necessary
EASY INTEGRATION: Compact size – easily integrated with existing software stack via industry standard MQTT protocol
24/7 Analytics: Fully automated, unsupervised and privacy-preserving traffic & pedestrian flow monitoring and analytics around the clock
TIME to MARKET: From prototype to production deployment in 2 – 4 months
Applications
Smart Cities & Spaces Operations & Analytics
Smart Grid/Energy Saving, Smart Lighting
Intelligent Transportation
Citizen Safety
Citizen Quality of Life & Accessibility
Based on the core functionalities of accurate, Vision AI-powered vehicle, object & citizen detection, the sensor comes with the PerCV.ai intuitive dashboard for data visualisation and flow analytics. Among the supported Vision AI-powered applications are 24/7 traffic monitoring, smart parking space occupancy, vehicle detection & classification, LPR, parking lot zone management as well as pedestrian flow monitoring while safeguarding citizen safety, quality of life and accessibility to public spaces in full anonymity and privacy.
Learn more about the solution specifications at: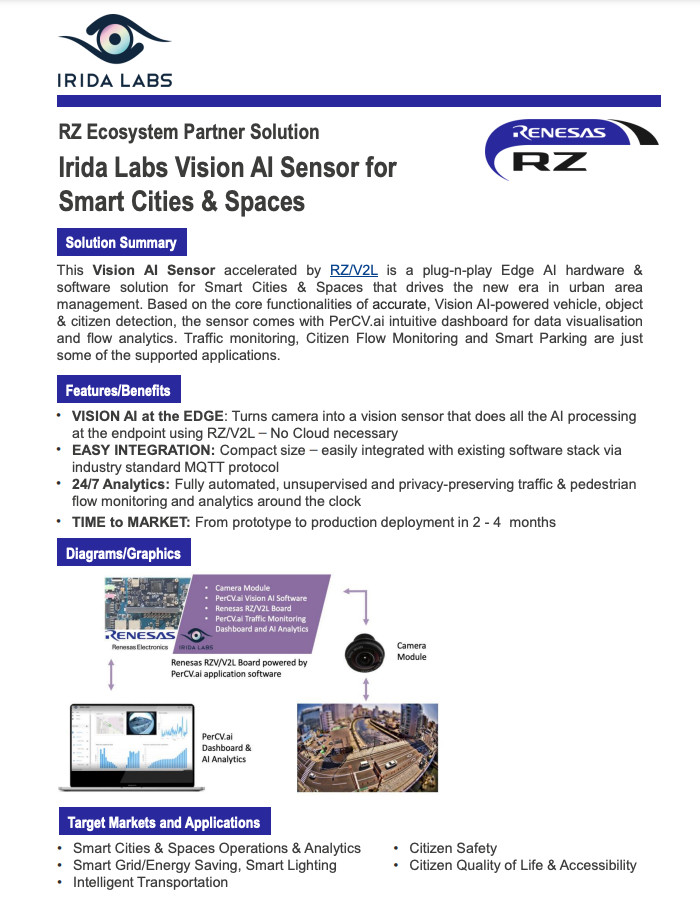 Get the Irida Labs – Renesas Vision AI Sensor for Smart Cities Product Brief in order to find out more technical details, the solution architecture, as well as availability and compatibility information.