We are absolutely thrilled to announce that our Vision AI Sensor for Smart Cities is now available for simulation at the Renesas' Lab on the Cloud (LotC). Users have access to live boards in a physical lab through an online interface that provides the buttons and knobs to test and control key features and functionality of the system, while a live video stream shows the board and relevant system components.  The resulting data is also displayed in the user interface.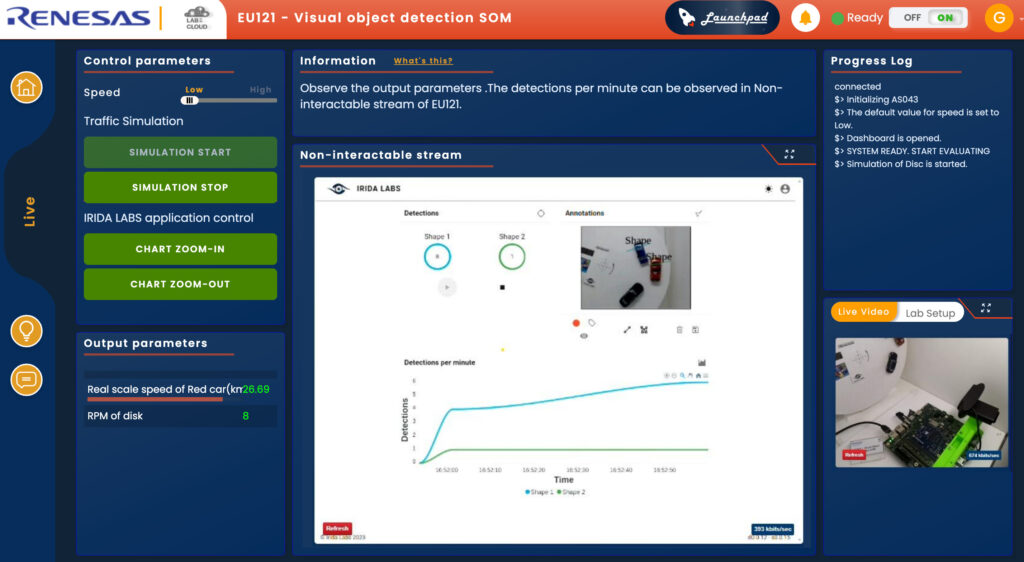 This Vision AI Sensor for Smart Cities & Spaces, built in partnership with Renesas Electronics, is a plug-n-play Edge AI hardware & software solution that drives the new era in urban area management. Based on the core functionalities of accurate, Vision AI-powered vehicle, object & citizen detection, the sensor comes with PerCV.ai intuitive dashboard for data visualisation, AI analytics or connectivity to 3rd-party apps. Traffic monitoring, Citizen Flow Monitoring and Smart Parking are just some of the supported applications.​
What is Lab on the Cloud (LotC)?
Lab on the Cloud is a remote test lab that users can access 24/7 to explore their proof of concept boards and drive system functionality. There is over 40 Renesas proof of concept boards available for engineers, from applications spanning motor control, electric vehicle systems, air quality monitoring, and even advanced face, object, and voice recognition. The Proof of Concept boards and advanced test instruments are connected directly through the cloud and can be monitored through live video streaming. Engineers can leverage an easy-to-use graphical user interface to remotely control boards and equipment from anywhere. Lab on the Cloud will boost the designer's confidence in Renesas' solutions for real-world applications. It is accessible at www.renesas.com/labonthecloud.
Lab on the Cloud is available for any myRenesas user to access. Save time and jump-start your design.